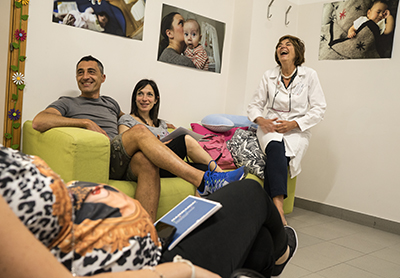 Launched by Save the Children Italia to promote mothers' and infants' well-being from the first moments of an infant's life, the Baby Ribbons program operates in major Italian hospitals. Because it is directly related to Pianoterra's mission, and because we are closely networked with local health and social service agencies and organizations, in 2013 Save the Children invited us to implement Baby Ribbons in Naples, at Cardarelli Hospital.
Cardarelli is the largest hospital in Naples, and one of the most important in the region. Its neonatal intensive-care unit is a resource to the entire region.
From our Baby Ribbons Centre in Cardarelli's maternal-paediatric ward, our staff work side by side with hospital staff to identify women who need support and counselling – pregnant women who may be suffering complications, new mothers whose infants need intensive care, single mothers, very young mothers, mothers with little education who are under-employed or unemployed, immigrants and refugees who speak little or no Italian. These women may be financially and emotionally stressed. They may need emergency housing, or protection from exploitation and abuse. Many are socially isolated, lacking a personal support network and unaware of free services that can help them and their families.
Our Help Centre counsellors – who include a psychologist and social worker – talk with each woman, and often with family members, to carefully assess needs. For immigrant families, counselling is designed to be sensitive to cultural values.
Our counsellors refer women to services provided by Pianoterra, such as Vital Nutrition: From Birth to Age One and 1000 Days. (Please see our Projects page.) Some services are delivered in the hospital; some, such as our Mommy School, after women leave the hospital. When women are discharged, we also refer them to services provided by our network partners, with whom we coordinate closely. We refer women who live outside of Naples to services near their homes.
Among the services provided by and through our Baby Ribbons project are these:
Counselling mothers on breastfeeding, bottle feeding, and the importance of good nutrition for infants and babies.
Monitoring for cases in which families are at risk. Examples are cases of potential and actual spousal and/or child abuse, extreme poverty, extreme social isolation, and emotional fragility, including pre- and post-partum depression (the "baby blues"). Our psychologist and social worker coordinate closely with local social services on these matters to arrange for supervision of high-risk cases.
Teaching and strengthening parenting skills, in order to prevent abuse.
Helping new parents learn how to manage the complexities and stresses of family life.
Referring mothers to other local social, educational, and healthcare services.
Promoting supportive relationships among mothers, so they can share their experiences of motherhood and help each other.
Providing material support, such as diapers and clothing for newborns through our 1000 Days project.
Helping women deal with administrative matters such as obtaining a birth certificate and applying for assistance programs. For immigrants who can't read or write Italian and for Italian women who have little or no education and are intimidated by paperwork and bureaucracies, this mundane-seeming service is vital.
We co-fund this project with Save the Children Italia.
Our Baby Ribbons Help Centre is located on the second floor of Pavilion F of Cardarelli Hospital.
Hours:
Monday: 10 a.m. to 2 p.m.
Tuesday through Friday: 10 a.m. to 4 p.m.
Tel: 081 7473348 – Cell: 366 44 14 715
e-mail: fiocchi@pianoterra.net
Facebook: Fiocchi in Ospedale al Cardarelli